The more you dive, the more you love.
Facility
About Us
Our Instructors
Quality
FACILITIY OF FISH IN AIR DIVE CENTER



Our Boat
Fish in Air Bunaken dive center currently has speed diving boats operating, which is fast and convenient.
No matter which dive site you go to, the boat journey is within 30 minutes.
Although Bunaken is normally calm all year round but you will find that our ship's anti-slip is done everywhere.
Everything is for safety and comfort.


---
The Dive Center
Fish in Air Bunaken is a PADI five-star dive center (PADI No. S-26785)
Our instructor taught in Chinese, English, Indonesian, Korean, French and many other languages.
The dive center is neat and orderly. The classroom area, leisure area and introduction area are always welcome to divers.

---

Diving Equipments
Good diving equipment make safe and comfort for divers. Therefore, we carefully select and maintain equipments.
We do our best to provide maximum protection for every diver who uses our equipment.
Our equipment is based on the internationally brand Aqualung and we choose the best standard equipment for each divers.
Regulators breathe smoothly and the air supply is stable. Fins have strong driving force and easy to put on and take off. BCD's operation is simple, and the valves is always good to use. Variety styles masks for a variety of face types and we also provide myopia masks.
---

Equipment Maintain
We have always keep our diving center be clean and orderly.
Equipment cleaning is divided into categories and placed in the different pool.
Small parts such as cameras and masks also have their own dedicated pool.
The mask/regulator used by the guest will be washed clean with sponge and washing liquid everyday.
Diving suits and fins will be washed and dry, and then put back to dry area. 24-hour fan ventilation, there will be no smell.
Every time BCD is used, the sand inside will be removed to ensure that the inflation valve and the exhaust valve are good to use.
Functional tests are performed each time the equipment is assembled. Once a problem occurs, we will replace it in time and repair the equipment.
---
Cylinders and the machine room
Our cylinder inflator is the best and most stable brand in the world,Our cylinders are inspected and cleaned every year. Once the water pressure test is found to be off, the cylinder will be scrapped immediately. As a dive shop owner who has always wanted to dive until dead, we hope that our air is clean and safe, and that you will be as safe as we are.


FISH IN AIR(PADI Five Star Instructor Development Center S-24499)has 2 diving centers and resorts in Indonesia,
Located in two beautiful places: Tulamben, Bali and Bunaken, Manado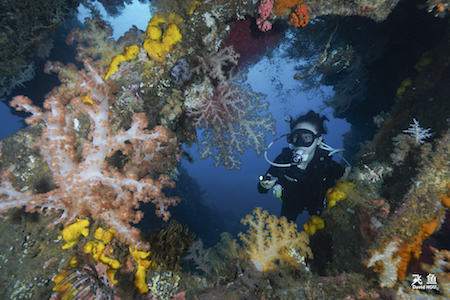 Left: Tulamben, The US Liberty Wreck Right: Bunaken National Marine Park


---
The founder of Fish In Air, Belgian Instructor David and Chinese Instructor Fu, are in love with the wonderful sea.From the day they learned to dive, they never lived more than 100 meters from the sea. Whether it is an ordinary small fish or rare species, it can bring them endless fun. They have continued to learn from latest fish books, combined with their daily experience in the sea to use their own hearts to observe the birth, growth, hunting and reproduction of marine life. Now, not only the two of them, all the diving instructors and dive masters in Fish in Air are "self-satisfied" and think that they are fishs but only live in the air.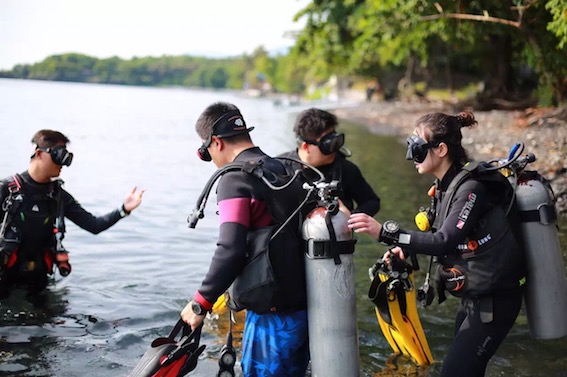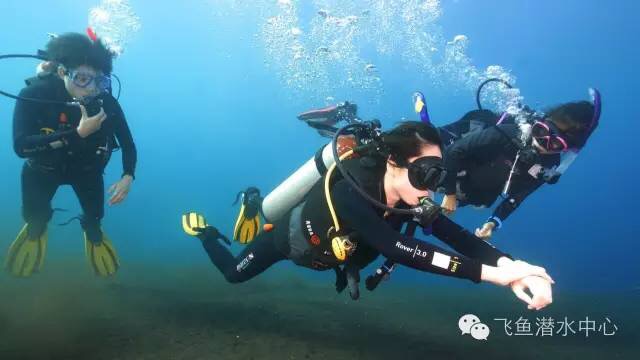 ---
Founding of Fish in Air

David and Fu both have more than 4,000 dives experience,some are in the vast open seas where the Maldives always flow, some in the coral seas where there are many fish in Indonesia, and there are diving trips around the world. Combining the experience in different diving sites and handling problems, we are not limited to just according to the standard. We only choose rigorous and suitable teaching. We build sense of comfort and confidence in the water for the divers, and the most important thing is to deal with the problem independently. At the same time, we continue to learn to observe the local diving knowledge of tides, currents, fishs, etc. So that all students feel that diving is a pleasure, not a task.
At the beginning of 2013, the Fish in Air Dive Center was opened in the quiet and original Northeast Bali. We have shown the experience of diving for many years in this store one by one, and passed the experience to the instructor, diving guides and dive masters who came to internship. Before each dive, we will introduce the dive for divers. After each dive, we will do debriefing to the divers. Include diving skills, Air use control, body posture, kicking skills, or fish identify. In this way, whatever you come to study or fun dive, you can get the guidance from each of our professionals.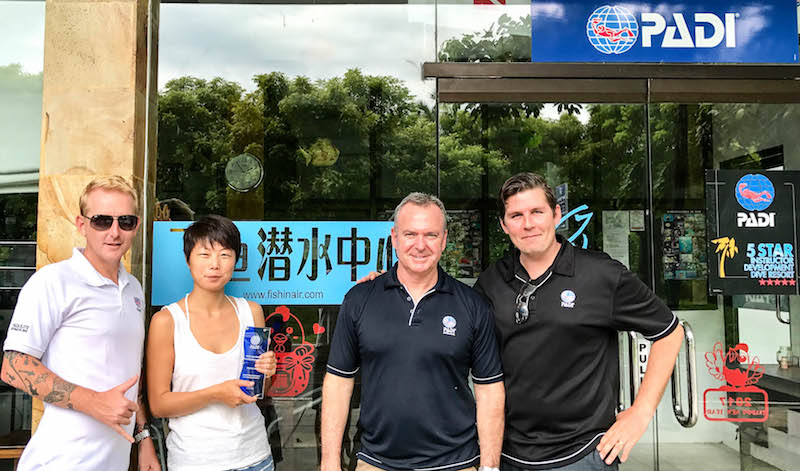 ---
Development of Fish in Air
In middle of 2013, Fish in Air has it's own diving resort, restaurant and spa.
In 2016, Fish in Air awarded the PADI Award for Advence Education in the Asia Pacific Region.
In 2018, Fish in Air's new dive center landed in the most prestigious Bunaken National Marine Park in Manado and opened a new diving base for the divers on the beautiful island of corals.


The more you dive, the more you love.
In the development of diving, we are also doing our part to protect the sea.
In 2016, Fish in Air became a member of TRUSH HERO in Southeast Asia, promoting environmental protection, and we no longer offered plastic products.
In 2018, Fish in Air join the environmental protection project "The Heart of the Sea" . We organizing long-term participation in marine protection activities.
OUR INSTRUCTORS



Before you come to Fish in Air, you must want to know "who will be my instructor or guide?"
The following is an introduction to the instructors and guides in Tulaman and Bunaken.


---
---
DIVING QUALITY ASSURANCE

What is the differents between dive centers

---

PADI Award of Education Honor


The diving industry can bring benefits, but the benefits are not the only goal we pursue.
Since the opening of the dive center in 2013, Fish in Air never played price competition, never cut corners and always keep high level of teaching standards.
In 2018, Fish in Air Bunaken S-26785 successfully applied for the PADI Five Star Dive Resort, continuing the tradition of excellence.
---
"Obsessive-compulsive" Equipment Management
If you have ever heard of some unpleasant diving experience is caused by diving equipment. It's absolutely impossible to happen in Fish in Air! Click here to check the facility of Fish in Air Dive Center
These details are not difficult to do once but it is difficult to keep it over the years. We have paid a lot of manpower and material resources to care for our equipment. Many divers said that if all the dive shops are renting as good as Fish in Air, maybe they don't have to buy equipment by themselfs.
---

Irresponsible teaching is never possible in Fish in Air

Fish in Air's Instructors are a group of people who love diving. We want to teach real diver instead of "diving license holder".
Fu Chun, the head of training, she is the highest level instructor of the PADI system - Course Director,
She has been teaching in Bali since 2009. She has extensive teaching experience. She has been interviewed by many media. Our instructor team is unified by her training and keep a consistent level of teaching.


Safety standards

Small class teaching, the maximum ratio of instructor to students is 1:4.
All the skills will be practiced skilled in the pool and then bring students to the sea.
Instructors teaching according to the standard and will not cut corners and teach less skills.
At the end of the training, both the trainee and the instructor must fill the learning record to ensure the quality of teaching.

---
The most comfortable environment on the island

Why is Manado famous? Because there is Bunaken National Marine Park.
First of all, convenient. No need to stay on the boat all day.
The dive sites are located within a 5-15 minute boat ride from the resort. Go out at 8:30am, come back at 12, continue the afternoon diving or theoretical study after lunch break, or simply lying on the beach chair to spend the afternoon.
Second, beautiful. The house reef coral in front of our door is very beautiful. You can snorkelling to see turtles or go kayaking.
Finally, comfortable. The Village Bunaken is an excellent hotel winner for 8 consecutive years on the Tripadvisor. Room facilities and dining are the best on the Bunaken island.
With a laid-back mood and nice environment, start your dive vacation now.